The 60s was probably one the most chaotic times in history for both the United States and the world, a decade defined by change. This was the time of the Civil Rights Movement and the counterculture. We were in the middle of the Cold War, which spilled into Vietnam. At this point, it was clear that the U.S. was going to shift away from the swell, jolly ol' days of the 50s that a lot of older, more conservative Americans are yearning for these days. In terms of music, the 60s is split into two parts: the time from 1960 to 1963, which were the 50s' sloppy leftovers and they were a drag to listen to, and the time period from 1964 to 1969, which is where the real 60s was at and it was an awesome golden age for music. Some of the best of rock music evolved in this time period. It was a great time for R&B and soul, especially with the rise of Motown. The British Invasion gave us a bunch of talented acts who brought new energy to the pop charts, including a certain four-man group who you will see on this list. Other genres that thrived in this time period includes psychedelia, folk, country, jazz, etc. Enough wasting time; let's look at the hits this groovy era gave us that either stood the test of time or exemplified the best of the decade.
100.

Not exactly how one pictures starting a list like this, with a jazz record. I know very little about jazz as I don't listen to it that much. To me, a lot of it is just background music. But that doesn't mean there aren't any great jazz records to appreciate because there are like Take Five from the Dave Brubeck Quartet. It's a really cool instrumental track that showcases some really good musicianship from Dave Brubeck on the piano to Paul Desmond's work on the saxophone and even Eugene Wright. And I like how relaxed the whole song is, making it perfect music to play in the background. I wouldn't consider it the best of jazz, but Take Five is a good record.
99.
From one instrumental to another. This time, we have the theme song to the popular show Hawaii Five-O. This song is performed by the Ventures, who have a history of making instrumental records that were made for surfing and Hawaii Five-O is no exception. The reverb-heavy guitars along with the horns and crashing drums make for a track that could be used for a 60s montage or be a theme to a 60s TV show. This won't be the last surf rock record that you'll see on this list or the last time you'll see the Ventures. Just keep reading.
98.
To tell you the truth, this song shouldn't even be on this list, but goddamn it, there's something about it that I love. My grandparents used to have those singing fish that you hang up on your wall that would sing a popular song. One of those would play Do Wah Diddy Diddy. Originally a song by the Exciters, it would gain popularity thanks to British band Manfred Mann's cover. While the original is a fine enough R&B song, Manfred Mann came in with a more memorable version with replay value thanks to the quirky instrumentation that includes an organ. The writing itself is a love song that has this dorky, yet likable quality to it. Not to mention it's really catchy. I find myself singing this song after hearing it. What can I say? I dig it.
97.
Country music has a bad reputation among certain circles that stem out of pure ignorance. As someone who didn't listen to the genre that much growing up, I can recognize the quality that comes out of country. This brings us to country music legend Conway Twitty and Lonely Blue Boy. The instrumentation is what happens when you take country and rock n' roll and fuse them together, a.k.a. rockabilly. This song sounds ripped out of the 50s, the good parts. From looking at the lyrics, it seems to be about a guy who's sad and lonely writing a letter to someone. Another thing to note: Conway Twitty is a great singer. If you're trying to get into country music, this ain't a bad gateway song. Check it out.
96.
Finally, we're getting into some early Motown. Some of the greatest soul and R&B records to come out of the 60s (and 70s) came from this Detroit-based label. One of the many acts signed was Martha & The Vandellas, who was one of many girl groups to be successful at the time, and are on this list with Heat Wave. I really like the upbeat soul production that can keep a party going, the chorus is a lot of fun to sing to, and the vocal performances from Martha Reeves and company are solid all through the board. This is just a really damn good track from one of the greatest music labels to ever exist.
95.
I remember first hearing this song from a commercial that I saw a long time ago. I forgot what they were advertising, but it involved someone opening a greeting card with the song playing and they were in an office setting. So this is Wild Thing by the Troggs. It's a simple love song that sounds like something a guy would sing to a girl to confess his love for her in a cheesy, yet adorable way. It also helps that the song rocks thanks to its memorable and catchy instrumentation that includes what sounds like a flute solo. It's actually an instrument called an ocarina.
Wild Thing isn't the most complex song ever made, but it's still an effective one that has lasted through time thanks to numerous covers.
94.
If there was any part of the 50s that was good, especially in the latter years, it was the Everly Brothers. These guys made some great music that made the decade more tolerable and they continued that success in the 60s, including with Crying In The Rain. Looking at the lyrics, it's a post-breakup song where a guy is trying to hide his sadness in the gloomy weather. One thing I like about this is that even though the dude is sad, he doesn't come off as too whiny and he acknowledges that he'll move on from it. The music matches the tone of the writing with its downbeat shimmering guitars and the excellent vocal performances from the brothers. If there's one good reason to sit through the late 50s and early 60s, it's for these guys.
93.
Motown is home to many legendary groups and the Four Tops is one of them. They helped established the popularity of the Motown sound that would make some of the best R&B tracks of the decade. I Can't Help Myself (Sugar Pie Honey Bunch) is their first number one hit and the second biggest song of 1965. It deserves the success that it got. The instrumentation is soulful and upbeat, the vocals from all four guys are great, especially Levi Stubbs who does the lead vocals, and as a love song, it hits the nail on the head. These guys were the shit back then, exemplifying Motown at its best.
92.
Sly & The Family Stone are one of the most underrated groups of all time and the most influential. They were the first multiracial, unisex group to be successful and they had bangers for days like Dance To The Music. Musically, it was a mixture of rock, funk, soul, pop, and even some gospel. It was an unconventional sound that the mainstream wasn't used to, but this fusion worked because it was also danceable and clearly, everyone in the group are putting their all into it. This song is just a blast to listen to and is one of those genre-benders that draws in people from different audiences. Just dance to the music.
91.
At number 91, we have Bobbie Gentry with Ode To Billie Joe. This is a song about a family from rural Mississippi and their reaction to news of the suicidal death of a boy named Billie Joe. The attention to detail in the song is amazing and it's one of the reasons why I always say that detail is important when it comes to storytelling in music. The music is mostly sparse, consisting of just an acoustic guitar and orchestral in order to put more focus on the story. This song was huge: it hit number one, it was third biggest hit of 1967, and it inspired a movie adaptation that expanded the story. This song is great and so is Bobby Gentry. Check her out, she's a talent who you shouldn't miss out on.
90.
Next up, we have Patsy Cline, who's a legend in country music. She's on this list with She's Got You. Musically, it shares a lot more similarities with the Nashville sound of the 50s with the slow, moody guitars and piano notes that you would hear at a bar on a lonely night. When you look at the writing, it appears to be the aftermath of a breakup where the woman is looking at all of the things she has that came from the relationship. Patsy Cline is a great singer and she's amazing here. Sadly, a year after this song's release, Patsy Cline died in a plane crash at the age of 30. Such a young talent gone too soon.
89.
At the same time the Beatles were dominating, the Rolling Stones were also blowing up, being at the forefront of the British Invasion. I'm amazed that this band is still performing 5 decades after they formed. Maybe it helps that they have a bunch of classics under their belt like Paint It Black. I really dig the psychedelic sound of the instrumentation, especially its sitar riff. The writing of the song involves a guy who lost a loved one and he's at her funeral. Color is used to describe the mood, especially the color black. Mick Jagger and Keith Richards both crafted this Rolling Stones classic that still rocks after all these years.
88.
When I was going through 1960 and 1961, Fats Domino was one of those artists who made going through those years more tolerable because he's great. The dude is definitely overlooked in the world of rock n' roll. He's on this list for Let The Four Winds Blow, an upbeat rock n' roll tune where Fats Domino is impressing some sweet lady with his charm. That's one of the reasons why this song works, the dude is charming. Plus, the music is really good. It's a good ol' rock n' roll sound with a saxophone. But this isn't the only Fats Domino song on this list, which leads us to…
87.
… this. While Let The Four Winds Blow is a great rock n' roll song, Walking To New Orleans is a great R&B ballad. Rooted on a piano and orchestra-driven instrumentation, Fats Domino slows it down to talk about himself walking to New Orleans because his woman broke his heart. It has this feeling of sadness, yet hope for something new and it's effective thanks to Fats Domino's performance. Don't sleep on this dude.
86.
Our first tie on the list goes to Peter, Paul & Mary, a folk trio from New York City. They were part of the huge popularity of folk music during the mid-60s and gave us some classics. Puff, The Magic Dragon is a song based on a poem that author Leonard Lipton wrote in 1959. Then, Peter Yarrow of Peter, Paul & Mary found the poem and wrote a song around it, giving Lipton credit, of course. It's about a dragon who lived by the sea and is befriended by a boy. It's a nice song with delicate acoustic instrumentation and great vocals from the trio. The song would eventually inspire a straight-to-TV animated adaptation that I never saw. Blowin' In The Wind is a cover to a Bob Dylan song of the same name. It's a really good song from Dylan and Peter, Paul and Mary's cover is just as good, maybe better. The instrumentation is great and so are the harmonies. Both this and Puff, The Magic Dragon are great songs.
85.
Louis Armstrong is best known in pop culture as the guy behind What A Wonderful World, which has been in damn near everything. But he's one of the most important figures in 20th century jazz and music. He's one of the first black entertainers to be able to cross over to white audiences and perform in spaces where black entertainers wouldn't normally be allowed to be in. His skills as a singer, trumpeter, and composer made white America overlook his skin color. Anyways, Hello Dolly. This is a song made for the musical of the same name and Louis Armstrong kills it. His rougher, gruffly voice gives the song a lot of personality. The music is the jazzy variation of a show tune, which makes sense since this does come from a musical. Great song from a jazz legend. Check it out if you haven't.
84.
Hell, yeah. We're getting into some Temptations, one of the greatest R&B groups in existence. These guys were the shit and they have classics under their belt, including I Can't Get Next To You. Unlike their earlier hits, this song leans more towards funk than soul, which you can thank the instrumentation for. You can always expect stellar vocal performances from the Temptations and this song is no exception. Every member gets a chance to shine vocally with a verse each while Dennis Edwards and Eddie Kendricks both handle the chorus. This won't be the last time you'll see the Temptations on this list.
83.
This, right here, is a soul classic in every meaning of the word. If you were to look up the definition of soul music on a dictionary, Soul Man by Sam & Dave should be mentioned because it is awesome. How could anyone not love this? The blaring horns, the sweet guitar riff, the key change at the end, and the undeniable chemistry between Sam & Dave makes this song. Isaac Hayes, who co-wrote this song, got inspiration after watching the aftermath of the 12th Street riot in Detroit and noticing that buildings that weren't destroyed during the riot were marked with the word "soul" on them. He basically snuck in a black power message within this fun soul classic. Nice.
82.
In case you couldn't tell, a good chunk of this list is going to be filled with acts from Motown and it feels wrong to talk about Motown and not mention Smokey Robinson and the Miracles. They were one of the earlier acts signed to Motown and Robinson was a very important figure, helping write a butt-ton of hits, including a few that are on this list and this song Ooo Baby Baby. It's another classic with its soulful instrumentation and angelic vocals. Smokey's falsetto makes this song along with the rest of the Miracles doing backing vocals. It's perfect for this kind of romantic song. Ooo Baby Baby has seen its fair share of covers, including one from Linda Ronstadt, but none of them measure up to the original.
81.
On August 16, 2018, the world lost one of its greatest voices in Aretha Franklin. It's sad because she truly was the Queen of Soul. It's like losing a family member as her music has been a part of our lives, especially in the black community. Anyways, here's Think. I really dig the soulful instrumentation and how it sounds like upbeat gospel. It's perfect church music. And then there's Aretha Franklin, who sounds great unsurprisingly. She performed this song on The Blues Brothers, which makes a great movie even better.
80.
More jazz? Okay. This time, we got Kenny Ball And His Jazzmen with Midnight In Moscow, a cover to a well-known Russian song called Moscow Nights. I don't have much to say about this, it's a really good jazz instrumental that sounds foreign, but also contains that New Orleans bounce. I dig the trumpet and clarinet work the most. I'm actually surprised that a song like this became a hit because it was the middle of the Cold War and the U.S. was still butting heads with the Soviet Union back then. Regardless of real-world events, this is a cool song.
79.
In 1967, the rock musical Hair was released and it was a perfect time capsule of the late 60s, capturing the social-political tensions that existed during the time. Two songs from that musical were combined into a medley by The 5th Dimension as Aquarius/Let The Sunshine In. The instrumentation is soul and psychedelia fused together in the best ways possible and the transition between the two songs is seamless. The vocals are just as great, fitting the happier, utopian theme of the song. There's a reason this was the second biggest hit of 1969 because it captured the times perfectly.
78.
Many of us know Brenda Lee thanks to Rockin' Around The Christmas Tree, which has become a holiday staple every single year. It kinda overshadows the other hits that Brenda Lee has, which she has numerous of, including You Can Depend On Me. The music isn't anything you haven't heard in the 50s, especially with its piano and string arrangement. But what makes this song is Brenda Lee, who captures that sad feeling after a breakup where you wish the best of the other person despite your sadness. It's the kind of maturity that I respect a lot of and gained this song a spot on the Best list. Expect to see more of Brenda Lee, though.
77.
The Righteous Brothers are one of the greatest vocal duos of all time. The contrast between Bill Medley's baritone and Bobby Hatfield's countertenor makes for great vocals in what would be great soulful songs. This brings us to (You're My) Soul And Inspiration. Looking at the lyrics, it seems pathetic as it's a guy trying to convince a girl to stay with him. But it works because Bill and Bobby sell the emotion excellently with their performances and the music matches the mood perfectly, going for a romantic bombast. This is one of those songs you play to your girlfriend after she gets mad at you for screwing up. If Bill friggin' Medley doesn't convince her to stay, then she ain't the one, bro.
76.
Why don't we add some doo-wop onto the list? Straight out of 1963, here's the Tymes with So Much In Love. It's a simple song that works with the bare minimums effectively. The laidback snappy instrumentation, the lush vocals, and the feeling of being in love. It's a perfect wedding song of the times. 30 years later, All-4-One would do a cover to this song for their first big hit. That song was really good and so is the original.
75.
The Rolling Stones song that everyone knows. Even people who have never heard of the Rolling Stones know of this song. (I Can't Get No) Satisfaction. What could be said about this song? It rocks. The recognizable electric guitar riff along with the bluesier instrumentation gives it a memorable sound along with Mick Jagger's performance. The lyrics have two different meanings: it could either be about sex or it could be about commercialism. That's the genius thing about the writing is that either interpretation fits the song. (I Can't Get No) Satisfaction, it's a Rolling Stones classic.
74.
So the Supremes were a huge act. They were the stars of Motown who brought the label numerous number ones, including what would make this list, Baby Love. The instrumentation is bouncy and dreamy, showcasing that classic Motown sound. Diana Ross is at the forefront of the song and her performance makes this song. It really wasn't surprising that she wound up being a huge solo star who overshadowed the rest of the group. This would be one of 12 number one singles from the Supremes. That's an amazing achievement.
73.
When Michael Jackson won the Album Of The Year Grammy for Thriller, he gave a shout out to Jackie Wilson, who he views as an influence. Since then, interest in Jackie Wilson has increased and for good reason; Jackie Wilson is awesome. He was a showman who's only rivaled by James Brown and he's got some great music to back him up like Night. That song features instrumentation straight out of a show tune with its orchestral strings. Vocally, Jackie just kills it in a operatic fashion, showing just how much talent he had. That song is great, but if you want to hear Jackie Wilson at his most energetic, check out the next song.
72.
Like I said, Jackie Wilson is one hell of a showman and he knows how to get the good times going. Case in point, (Your Love Keeps Lifting Me) Higher And Higher. This song is just nonstop energy from its soulful, fast-paced instrumentation to Jackie Wilson's amazing vocal performance. Only he could make this song based off of his pure presence alone. He just nails that feeling of an elevating love better than most people. That bland-ass Rita Coolidge cover from 1977 could never live up to this song and why would it? This is a soul classic from a legend who inspired other legends.
71.
I talked about Janis Joplin back in my Best Songs of the 70s list and now I'm talking about her again alongside Big Brother & The Holding Company. Their big hit in 1968 is a cover to a Erma Franklin song called Piece Of My Heart. The original is a good enough soul song, but Big Brother & The Holding Company took that song and made something even better. A bluesy song that rocks and is blessed by the presence of Janis Joplin, whose rougher, yet vulnerable voice brings a unique texture to the writing, which is another love song. Janis Joplin is a talent who was taken from this world too soon.
70.
And we're back to talking about Brenda Lee again, this time, with Break It To Me Gently. The light piano-and-strings driven instrumentation fits at home in the late 50s and early 60s. There's also the spectacular performance of Brenda Lee, who's great here and she nails the emotion of not wanting a breakup to be too severe to the point of depression. It gives me the same vibe as She's Got You, which I talked about earlier. This kind of sad ballad really works when everything is on-point and it won't be the last of its kind on this list.
69.
This is another song that I shouldn't really like, but I just do. Lesley Gore's It's My Party. At first glance, it seems like a white person's imitation of soul music, but then you realize that this is the first hit single produced by Quincy Jones. Yes, THAT Quincy Jones. He brought the same bounce and groove to the instrumentation that would be present in the future hits he would produce. It also helps that the music weirdly fits Lesley Gore. All of this going to writing straight out of a teen drama where a girl is at a party and finds out that her boyfriend left her for someone else. I don't care what anyone says, I like this upbeat pop song with less upbeat writing.
68.
From blue-eyed soul to actual soul and a song written and produced by Smokey Robinson. My Guy is the biggest hit for Mary Wells, who was Motown's first female star before Diana Ross and help make the label who they are. It's a great song with an organ-driven soul instrumentation that's bouncy and snappy. Mary Wells brings a husky swagger as she asserts her loyalty to her man and rejects anyone who would try to get with her. In other words, it's an anthem for happy women in relationships. Not a bad song to get hitched to, huh?
67.
Doing these 60s lists made me respect Elvis Presley even more. He's never been one of my favorite artists, but he was easily one of the best parts of the 50s and early 60s, bringing an energy that was lacking in most hits. After serving in the Army for two years, Elvis made a comeback in 1960 with two hits, one of them being a cover of Are You Lonesome Tonight. Musically, it's an acoustic guitar ballad with backing vocals. Through half the song, Elvis sings and hasn't skipped a beat while the other half is spoken word. The writing deals with the aftermath of a breakup where Elvis basically asks if she misses someone to be with. It's corny, but it works thanks to Elvis himself. He's a great singer.
66.

Time for another instrumental track courtesy of the Ventures. They're here with their version of Walk Don't Run. If there's any song that's a prototype of surf rock, it would be this one as it has those groovy guitars, bass, and some spectacular drum work. This sounds like it would be in a soundtrack to a surfing movie. Just picture a bunch of surfers in Southern California riding the big waves to this. This was released in 1960; four years later, the Ventures would do another version of this song. That version is just as awesome as the original and I'm adding it to this spot as a tie. Great song.
65.
James Brown. The Godfather of Soul. You don't need me to tell you that this guy is a legend. Just listen to his music and you'll get it. If you want somewhere to start, check out Papa's Got A Brand New Bag. It is an awesome song with some great instrumentation. The horns, the guitar licks, the whole nine yards. This pretty much paved the way for funk music. James Brown lives up to his title as the hardest working man in show business as he brings a ton of swagger and presence to this song. It's the kind of song our parents would listen to that's actually really dope. Papa does indeed have a brand new bag.

64.
Now for a song by the legendary Glen Campbell. Because why not add a little country flavor to the list? This is Gavleston, which has become an unofficial anthem for the city of Gavleston, Texas. Featuring grandiose instrumentation that sounds like something out of a movie soundtrack thanks to its orchestral strings, it's about a soldier going into war and hoping to come back home to Gavleston to see his girl. It's a sweet song that's also kinda sad because there is that possibility that the dude won't come back alive and it's been viewed as an anti-war song. Considering that the Vietnam War was occurring around this time, I'd say the timing was perfect.
63.
Well, it took this long, but I finally get to talk about the Beatles. Setting aside their immense popularity and legacy, the Beatles were awesome and I'm a huge fan. So is my pops. The Fab Four have numerous hits under their belt and the majority of them were great like Paperback Writer. This song fucking rocks thanks to the instrumentation, which features one of the hardest-hitting guitar riffs of that decade. All of this for a song about a guy wanting to be a writer. These guys could make a song about anything and make it interesting. For the most part. Expect to see more of the Beatles on this list.
62.
I'm a Doors fan. I really enjoy their musical output and they're one of my favorite music acts of the 60s. Their best song, to me, is Light My Fire. This song works for two reasons alone: Jim Morrison and the instrumentation. There's not a lot of frontmen who have the presence of Jim Morrison. The way the dude shifts his baritone on this song to a growl is amazing. And then there's the instrumentation. Dude, this is one of the best produced songs of all time in my opinion. The extended solos in the middle of the song are a piece of heart, from the organ to the bassline to drums to even the guitar solo. The song is 7 minutes and it never drags. Every second is worth hearing. I love this song and the Jose Feliciano cover is pretty good, too.
61.
If there's any song that makes Hell sound like a ton of fun and they're not AC/DC's Highway To Hell, it would be this one. The Crazy World Of Arthur Brown was one of the first shock-rock acts in existence. Acts like Alice Cooper, KISS, Marilyn Manson, etc., owe a great debt to this band, who hit it big with Fire. This has one of the most hypnotizing instrumentations of the late 60s thanks to that organ. Arthur Brown is definitely a frontman with presence, pulling off many moods and voice tones. The whole song is encapsulated madness and I love it. I can picture Pennywise dancing to this.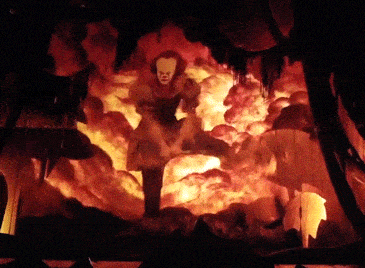 60.
Talk about tonal whiplash. The last song was ball-to-the-walls insanity. This one is much more reserved and comes from the soundtrack to Breakfast At Tiffany's (those of you waiting on a Deep Blue Something gag are going to be disappointed). This is Moon River, which was composed by Henry Mancini. It's a good song with some nice orchestral strings and 50s-esque vocals. This is not the kind of music that I myself would listen to, but for its kind, Moon River is one of the better ones and all of the accolades it received were well-deserved.
59.
Now for the final Brenda Lee song for the list. It's called I'm Sorry and it's her first number one hit. Musically, it's more of the Nashville sound that made up a good chunk of country hits back then, slower and string-driven. Like the other two songs, Brenda Lee herself is the best part of I'm Sorry. For a 15 year old, she sounds great as she sings about a love that wasn't meant to be and the regrets she has, bringing maturity to and elevating what would have been an okay song given to someone else. This song, and others, made me realize that old school country in general are really good at making sad songs and there's a place in the world for well-made sad songs.
58.
And while we're on the subject of sad country songs, let's talk about Patsy Cline again. I Fall To Pieces isn't just her signature song, but it's a staple of classic country that's pretty much synonymous with the genre. And it's a great song to boot. It's about that feeling when someone you love wants to break up and the initial reaction. The music fits the mood that the writing intended to create and so does Patsy herself. It's one of the great country hits that shows the genre at its best.
57.
At the end of the decade (more specifically, 1969), New York band Blood, Sweat & Tears released Spinning Wheel, which is a dope ass song. I really like the instrumentation of this song; the horns, the piano, the saxophone, the bass and guitar playing, everything. It's jazz fusion at its best that also utilizes elements of R&B and psychedelia. The writing is based around the concept of everything coming to full circle, which is an interesting premise in the era of psychedelia. If you haven't heard this song yet, check it out. It's one of the best that the 60s has to offer.
56.
For the next four entries, we're heading back to Motown, starting with the Four Tops. They scored the fourth biggest hit of 1966 with Reach Out I'll Be There. This is another classic from the group with soulful and driving instrumentation that has a great flute melody. All of the singing in this song is great, especially from Levi Stubbs, who's just owning it. Great song from a great group. Check out the Four Tops if you haven't.
55.
From one great Motown group to another. You can't go wrong with the Temptations. This is The Way You Do The Things You Do. Longtime readers will probably remember when I put UB-40's cover of this song on my Worst of '91 list. That awful cover will never take away how good the original was. I like the cool, driving music and how groovy it is. I find myself snapping my fingers to that song every time I hear it. Eddie Kendricks takes the lead in vocals and his falsetto makes the song. Not to say that the other four guys didn't do anything, they were great, too. This was the Temptations' first big hit and it would be the beginning of a fruitful career.
54.
How appropriate that we move on to the guy who wrote and produced the last song. We have Smokey Robinson and the Miracles with You've Really Got A Hold On Me. It's a mid-tempo love song with piano-driven instrumentation and some great vocal performances. The Beatles would actually do a cover of this song early in their career and it's a good cover. What can I say? This is just another damn good song from the Miracles.
53.
Two of the greatest love duets came from Marvin Gaye and Tami Terrell. The first one I'm going to be talking about is You're All I Need To Get By. You remember that Method Man and Mary J. Blige hit I'll Be There/You're All I Need To Get By? Well, here's the song it was inspired by. Written and produced by songwriting couple Ashford & Simpson, this is a song where two people who love each other vow to stick by each other. Marvin Gaye and Tammi Terrell have the best chemistry of any music duo and you believe that these two people would love each other. Sadly, at this time, Tammi was suffering from a brain tumor that she had to have multiple surgeries on and she sadly passed away at the young age of 24. This fucked up Marvin Gaye and he never fully recovered from that even to his untimely death. The life story of these two, especially Tammi, is really sad when you read into them.
52.
The second two-way tie of the list goes to San Fransisco's Jefferson Airplane. They scored two big hits in 1967 with White Rabbit and Somebody To Love. White Rabbit co-opts a lot of imagery from Alice In Wonderland and uses them as a metaphor for an insane acid trip, which makes sense considering that story inspires a lot of psychedelia. Along with that, the entire song is one long crescendo with how the music and Grace Slick's vocal performance just builds into straight-up madness that would be in Alice In Wonderland. Yeah, there's no chorus or bridge to this song and it became a Top 10 hit. Amazing. For something with a more conventional song structure, there's Somebody To Love. Written by her brother-in-law Darby Slick, Grace took the song to Jefferson Airplane and it became a hit for them. It was written in the aftermath of a breakup and it takes shots at the free love movement, suggesting that not everyone is going to benefit from the movement. Grace gives a snarling performance that matches the writing and the music is psychedelic rock awesomeness. It's a classic, this and White Rabbit.
51.
Bob Dylan. He's not exactly a great singer, but he is one of the greatest songwriters in music history. That probably explains why he's one of the most covered artists ever since damn near everyone covered one of his songs, including Like A Rolling Stone. This shit is a classic. The music is great; the piano, the guitars, the organ, that harmonica. It's a well-produced track that brings the worlds of rock and folk together. The writing is excellent as well, showing a feeling of resentment that's open to many interpretations. Rolling Stone has this song at number one on their 500 Greatest Songs Of All Time list. As for me? Well, you can see for yourself that the next part is going to have songs that I think are better. Doesn't mean the song isn't great. Stay tuned and don't be like a rolling stone.